HIGHLIGHTS
Series Pixel 6 may be released in October
The devices are expected to have a  50-megapixel main camera
Both these smartphones are expected to come with an internal chipset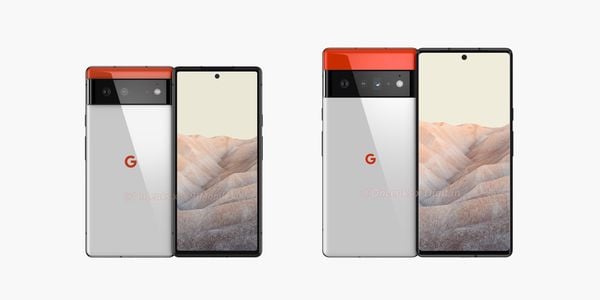 The Google Pixel 6 and the Pixel 6 Pro are possibly the two most interesting devices to launch this year. These smartphones are expected to ship with brand new designs and upgraded hardware. In addition, Google is also preparing to introduce an internal chipset called "Whitechapel". According to the leak, these devices will feature OLED screens, 50-megapixel main cameras, and significantly larger batteries.
The upcoming Pixel 6 series is rumored to launch around October this year, just like its usual timeline. Although there is still some time to go, we already have some information about these smartphones. With that in mind, we decided to detail everything we know about the Pixel 6 and Pixel 6 Pro so far.
Pixel 6 and Pixel 6 Pro specs and features
Last year's flagship  Pixel 5  missed the XL model, but that could change this year. Many leaks hint at a Pixel 6. However, the XL moniker is said to be replaced by Pro, which means the top-end Pixel will be called  Pixel 6 Pro. Google has been using the XL moniker for a while, and it's hard to guess why Google would want to go in that direction.
– Moving on to the design of the Pixel 6 series, the lineup is expected to get a major overhaul. Two well-known experts have confirmed the rumored design, so it's likely that the Pixel 6 and Pixel 6 Pro will feature the same feature. Some time ago, 91mobiles released the design in cooperation with Onleaks. These designs are similar to the previous Pixel 6 designs that have appeared.
–Now, in a new leak, Jon Prosser has revealed the key specifications of both the Pixel 6 and Pixel 6 Pro. As far as the standard Pixel 6 is concerned, it is said to feature a 6.4-inch AMOLED display with 120Hz refresh rate support. Furthermore, the device may ship with dual rear cameras consisting of a 50-megapixel megapixelmain camera and a 12-megapixel ultra-wide sensor. While on the front, it is expected to have a  8-megapixel camera for selfies. Google's very own chipset Whitechapel will be equipped for the new generation. And equipped with  8GB RAM and 256GB internal memory. Moreover, the 4614mAh battery is significantly larger to increase the comfortable usage time of 1 day.
The Pixel 6 Pro, on the other hand, is expected to feature a larger 6.71-inch AMOLED display with a 120Hz refresh rate. The smartphone is tipped to feature a triple rear camera setup consisting of a 50-megapixel main camera, a 12-megapixel ultra-wide lens, and a 48-megapixel telephoto sensor. While on the front, it may come with a 12-megapixel camera for selfies. Like the standard model, it is also expected to have an internal chipset, which can be equippedwith up to 12GB of RAM and 512GB of internal storage. The Pixel 6 Pro could have a 5,000mAh battery.
–At this year's Google IO, the software giant revealed that it is also working on improving its camera-powered computing software. The brand showcased how they partnered with imaging professionals to deliver better results when photographing people with different skin tones. We believe it's just a small part of the software change we've learned about, and the Pixel 6 will see more improvements to make its camera stand out.
–One of the biggest changes on the Pixel 6 series is the inclusion of an internal chipset. Reports suggest that Samsung is developing this chipset codenamed Whitechapel. Furthermore, the chipset is being called 'GS101' with GS standing for "Google Silicon". We also learned that it is an 8 core ARM CPU with two Cortex-A78 plus two Cortex-A76 and four Cortex-A55 cores. This will be paired with an ARM Mali GPU and built on Samsung's 5nm manufacturing process.
Pixel 6 and Pixel 6 Pro launch date
Google announces its flagship Pixel devices during the October event they hold every year. The current Pixel 5 launched on September 30 of last year, so we expect the upcoming Pixel 6 lineup to launch around the same time.
Xiaomi's Redmi Note 10 Pro 5G is set to launch internationally: Leaks